ISO activities
Shigiya has already received "ISO 9001" certification quality management and is making a united effort to "improve customer satisfaction" and "reduce the load that business activities place on the global environment" throughout the entire company.
In addition, standards of "ISO 14001" for environmental management are observed in our own way.
This section provides a summary of these efforts.
Status of Shigiya's ISO Certification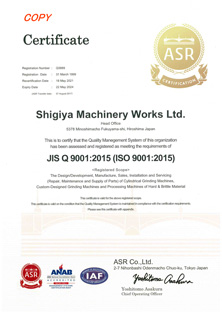 zoom
ISO9001(Product quality)
Scope of certification
Business activities related to the design, development, manufacturing, sales and installation of cylindrical grinders, specialized grinders and machinery to process hard and brittle materials, as well as related services
(repair, maintenance, inspection, and parts supply)
Applicable sites
Headquarters plant, sales and branch offices
Applicable organization
All divisions
(excluding the GS division and related companies)
Date certified
March 1999
Certifying body
ASR Co.,Ltd.
Accrediting body
Japan Accreditation Board (JAB)

he Shigiya quality assurance and environmental management systems (QMS, EMS) are based on QMS,designed to share to the maximum extent possible common items required by ISO.These systems have the following features
■Each management system is, in effect, an integrated system

→No distinction between QMS and EMS operations (documentation and management of records use the same procedures)
→Efficient operation of the systems by the system administrator and the ISO secretariat
→Promotion of efficient and effective audits through multiple internal audits (simultaneous QMS and EMS audits)

■ISO procedures are used as a target management tool for the entire company, including business targets

→Systemization of divisional, departmental, and individual target setting and performance measurement
→Contributes to the adoption and strengthening of the PDCA cycle

■Expansion of the number of employees certified as internal auditors (around 10% of employees) to broaden the range of ISO promoters

■Digitized management of ISO documentation (paperless management) using the company Intranet (customized software),and use of a digital approval system for the creation and editing of documentation
ISO9001 activities
Shigiya's quality assurance policy and status of activities
In accordance with our quality assurance policy, Shigiya seeks to offer maximum customer satisfaction by providing the reliable products that customers expect and demand. Every employee carries a business-card sized copy of our quality assurance policy for their reference, and employees recite this policy each morning in order to raise awareness of this policy.
In order to create reliable products, and provide superior services after delivery, Shigiya has set up the following 11 primary processes, and works to achieve the thorough implementation of each and every process.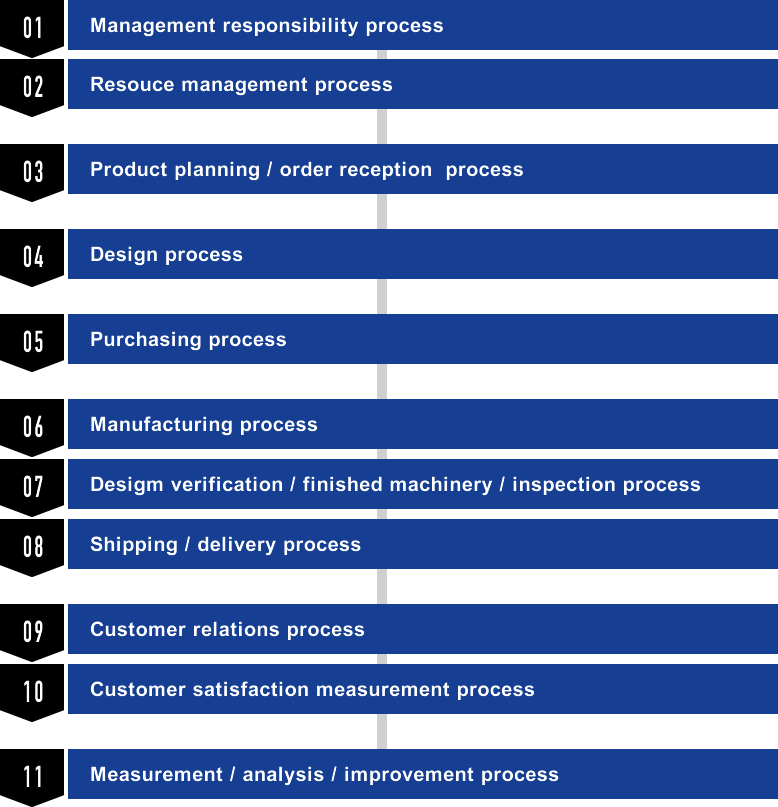 Shigiya is also making effective use of ISO in risk management!
Regarding corporate compliance and corporate management, we have actively sought to include in our system items that are not a required part of ISO certification, and by creating work processes for these items, have created a system to ensure that they are thoroughly observed and implemented (export management regulations, cost management standards, etc.).
Export Management Regulations
[Basic Policy]
The chief executive who is responsible for the management of safety assurance of exports is the President, Norikazu Shigitani, and the basic policy on the management of safety assurance of exports is stipulated as follows.
1. The export of controlled goods shall conform to all laws and regulations related to exports, including foreign exchange and international trade laws.
2. In order to ensure the observance of laws and regulations related to exports, and the implementation of appropriate export management, a manager responsible for safety assurance of exports shall be appointed, and a system of export management shall be set up.
[Purpose]
These regulations are intended to clarify the necessary safety assurance system and procedures in order to ensure the appropriate application of the management of safety assurance of exports, which is itself designed to maintain international peace and safety. The thorough implementation of the safety assurance system and procedures will construct a system that abides by all relevant laws and regulations, such as the foreign exchange law.
ntroduction to "voluntary management activities" under ISO14001
Shigiya's environmental policy and status of activities
Shigiya has implemented activities according to the six "action guidelines" in our environmental policy. Particularly, in the area of practical ecology,
we are actively pursuing the development of environmentally-friendly products. Furthermore, the entire company aims to achieve zero emissions of industrial and general waste.
[Introduction of activity achievements]
■Reduction of water-soluble cutting fluid discharge
■Waste oil/waste liquid zero discharge activities
■Reduction of throughput of flammable waste oil (waste thinner)
■Reduction of disposed amount of flammable waste oil (waste thinner)
Development of environmentally-friendly products
Based on proposals our sales division has received from our customers, the development division is actively seeking to study environmental technologies and collect data, in order to develop and improve a range of socially appealing environmentally-friendly products.
[Major thrust of development programs in progress]
■On-machine measurement of surface roughness
■Efficient use of motor output data
■Accuracy improvement of indirect sizing