ISO initiatives
Shigiya ISO certification status
Shigiya Machinery Works Ltd. implements constant reforms and improvements as united efforts throughout the entire company in order to "improve customer satisfaction" and "reduce global environmental burden". We provide an overview of some of these initiatives below.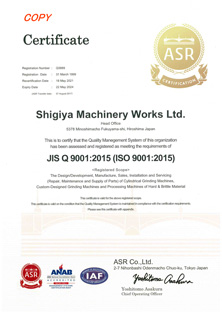 View larger
ISO9001:2015
Quality Management Systems
ISO14001:2015
Environmental Management Systems
*Voluntary management
Scope of certification
Business activities related to the design, development, manufacturing, sales, and installation of cylindrical grinders, specialized grinders, and hard and brittle material processing machinery, and all related services (repair, maintenance, inspection, and parts supply)
Applicable sites
Headquarters plant, sales and branch offices
Applicable organizations
All divisions (excluding the GS division and affiliate companies)

The Shigiya quality assurance management systems (QMS) and environmental management systems (EMS) have the following features.
■ Each management system is equivalent to an integrated system!

→ Make no distinction between QMS and EMS operations (management of documentation and management of records use the same procedures)
→ Centralized operation by system administrators and the ISO secretariat
→Promotion of efficient and effective audits through complex internal audits (simultaneous implementation of QMS and EMS audits)

■ISO procedures are used as target management tools for the entire company, including business targets

→Systemization of everything from setting of division, department, and individual targets to performance assessment
→Contributes to the adoption and strengthening of the PDCA cycle

■ Expansion of the number of employees certified as internal auditors (around 10% of employees) to broaden the range of ISO promoters

■ Digital management of ISO documentation using company Intranet (customized software) functions

Adoption of paperless management and use of a digital approval system for the creation and revision of documentation
ISO9001 initiatives
Shigiya's quality assurance policy and status of initiatives
In accordance with our quality assurance policy, Shigiya seeks to improve customer satisfaction by providing the "reliable products" that customers expect and demand to the market. Every employee carries a business-card sized "target card" with out quality assurance policy printed on it so that they can refer to it at any time, and other activities are also implemented in order maintain awareness of the policy such as having employees recite the policy each morning.
[Quality Policy]
We shall earnestly listen to opinions from the marketplace, continually strive to improve quality, and strictly adhere to all compliance requirements while providing the best possible quality products and services.
In order to efficiently employ the quality management system:
1. We shall set, review, and continually improve quality targets in accordance with the quality policy.
2. We shall utilize the quality management system to clarify procedures to ensure the reliable design, development, manufacturing, and sale of products which adhere to relevant legal requirements and regulations and suit customer needs.
3. We shall continually aim to improve the level of customer satisfaction by measuring and assessing customer satisfaction levels.
4. We shall carry out management reviews and make efforts to implement necessary handling swiftly in order to provide the management resources (organizations and systems, work environments, company infrastructure, etc.) required to fulfill the quality policy in a timely manner.
5. We shall continually work to ensure that an awareness of how important the quality policy and activities aimed at achieving quality targets are to business activities.
April 2018
SHIGIYA Machinery Works Ltd.
Norikazu Shigitani, President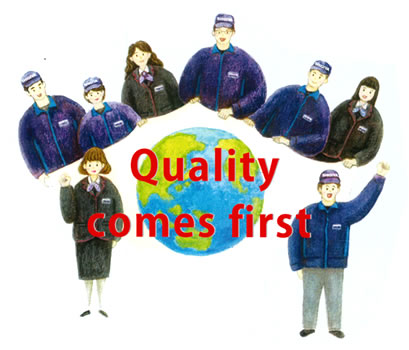 Shigiya also effectively employs ISO to risk management!
In regards to corporate compliance and corporate management, we have actively sought to include in our system items that are not a required part of ISO certification, and by creating procedures for these items, have created a system to ensure that they are reliably observed and implemented. (Export management regulations, cost management standards, etc.)
Export Management Regulations
[Basic Policy]
The chief executive who is responsible for the management of safety assurance of exports shall be the President, Norikazu Shigitani, and the basic policy on the management of safety assurance of exports shall be stipulated as follows.
1. The export of controlled goods shall conform to all laws and regulations related to exports, including foreign exchange and international trade laws.
2. In order to ensure the observance of export related legal requirements and regulations, and the implementation of appropriate export management, a manager responsible for safety assurance of exports shall be appointed, and a thorough system of export management shall be established.
[Purpose]
The purpose of these regulations is to clarify the safety assurance system and procedures of said system required in order to ensure the appropriate application of the management of safety assurance of exports, which is itself designed to maintain international peace and safety, and to construct a system that abides by all relevant laws and regulations, such as the Foreign Exchange Act through the thorough implementation of this safety assurance system and the procedures of said system.
ISO14001 voluntary management initiatives
Shigiya's environmental policy and status of initiatives
Shigiya carries out initiatives according to the six "action guidelines" in our environmental policy. In the area of practical ecology in particular, we actively work towards the "development of environmentally-friendly products", while the entire company also works towards industrial and general waste zero emission initiatives.
Initiative results
■ Reduction of water-soluble cutting fluid discharge
■ Reduction of throughput of flammable waste oil (waste thinner)
■ Waste oil/waste liquid zero emission activities
■ Reduction of disposed amount of flammable waste oil (waste thinner)
Development of environmentally-friendly products
Based on proposals collected from customers by the Sales Division, the Development Division actively seeks to research and collect data on environmental technologies, in order to develop and improve a range of socially appealing environmentally-friendly products.
Major in-progress development themes
■ On-machine measurement of surface roughness
■ Efficient use of motor output data
■ Accuracy improvement of indirect sizing