Our company is located in a wonderful environment, on top of a hill in Minoshima-cho, Fukuyama City, which provides views of the Seto Inland Sea scenery, and also serves as an optimal and strong foundation for machinery manufacturing, which requires the maintenance of high quality levels. We carry out high quality "Japanese Mono-Zukuri" style of manufacturing through the integration of our human resources with our facilities and equipment in order to provide the highest degree of satisfaction in all aspects of our business including quality, functionality, pricing, and delivery times.
Design and Development
All of our engineering department staff carries out design work using CAD software. We use three-dimensional CAD software to carry out development of new products using structural analysis and interference check functions, as well as to work towards shortening lead times from the start of design to until product completion, to improve the initial completeness of new designs, and also to reduce overall costs from production to assembly. We have substantial resources, including equipment and facilities, which allow us to carry out design meetings and development of component technologies, which form the "good environment" that help create "good products".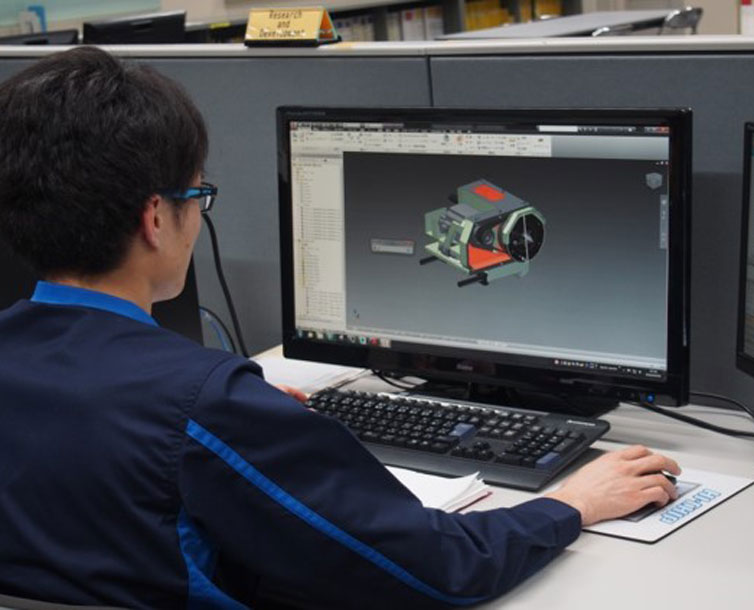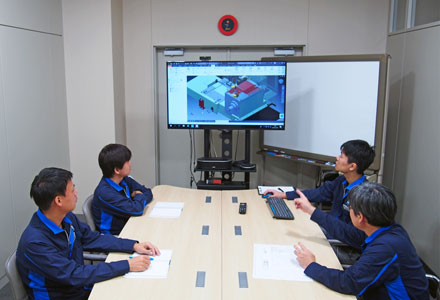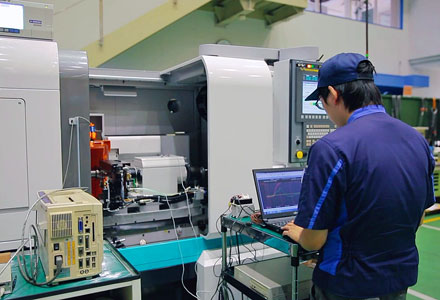 Machining
In order to produce high quality cylindrical grinders, we employ the latest machinery and equipment alongside personnel with skill and ingenuity, to achieve the highest degree of precision for each and every individual machine component. We also carry out a variety of initiatives which enable us to maintain a high level of productivity, including FMC (numerical control machinery equipped with automatic supply and attachment/removal mechanisms) which allow for long-duration unmanned operation, as well as unmanned robot integrated cylindrical grinding operations. We also carry out a variety of initiatives to improve productivity and efficiency such as utilization of IoT technologies to monitor operating conditions, to predict irregularities and to aid in preventive maintenance.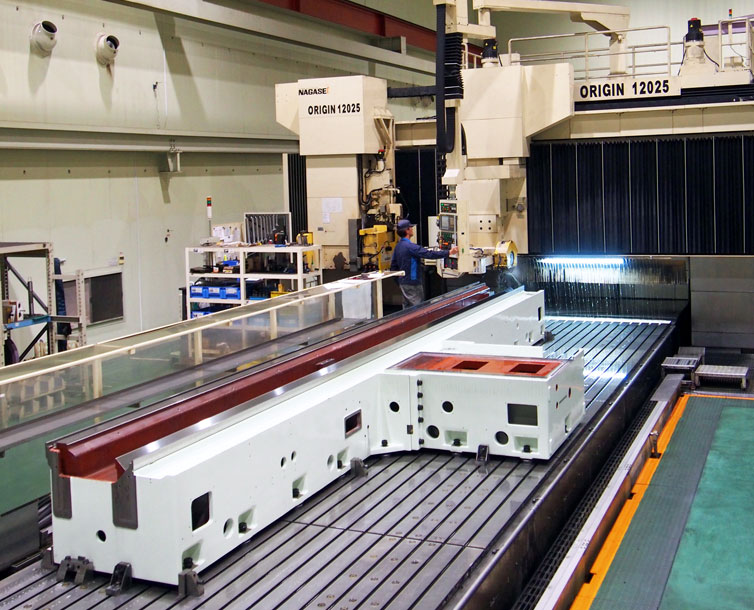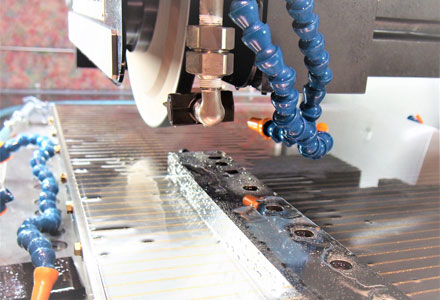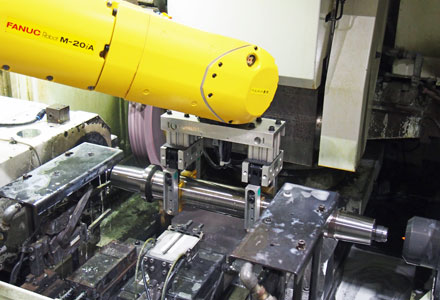 Machine assembly
We assemble precisely manufactured components into high quality machines in our factory, which comprises of four assembly areas, where assembly of all machines from small compact machines to large-sized machines is carried out. We supply our products to our customers with confidence backed by the superior assembly know-how that our company has accumulated and passed on over generations, since the company's establishment. The interior of our factory, where work is carried out, is fully air conditioned, and maintained in showroom-like cleanliness and order, always maintaining the best environmental conditions for ensuring the quality of our machines.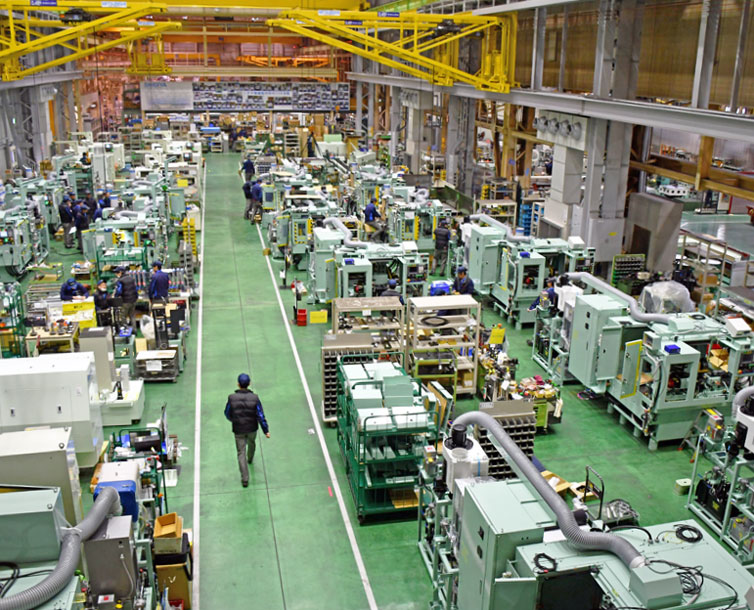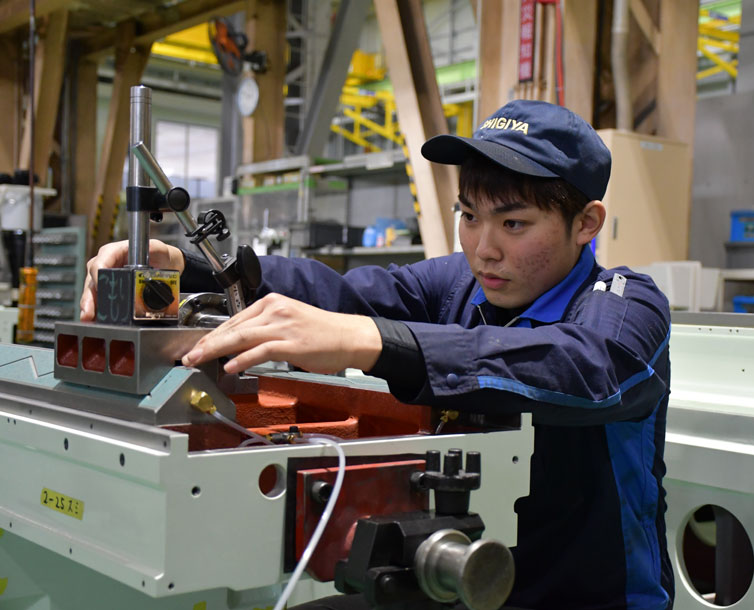 【Hand scraping processing】
"Kisage (hand scraping)" is a metalworking process which is manually carried out by human workers using blade like tools called "scrapers". This process requires the skills of "takumi" craftspeople, whose skill set is acquired with experience of over 10 years. Implementing hand scraping processing allows for improvement and correction of angular error and curvature, twisting and misalignment, and makes it possible to achieve a degree of dimensional precision which is difficult to obtain through machine processing alone. In addition, this technique is used for the creation of small "oil pockets", which are indentations of just several microns, in order to resolve issues including burn and sticking of metal surfaces along which the units of cylindrical grinders move, and to reduce sliding friction by creating a high damping performance sliding surface. This in turn allows for greater positioning accuracy, making this technique vital for the production of high precision, long usable life machines.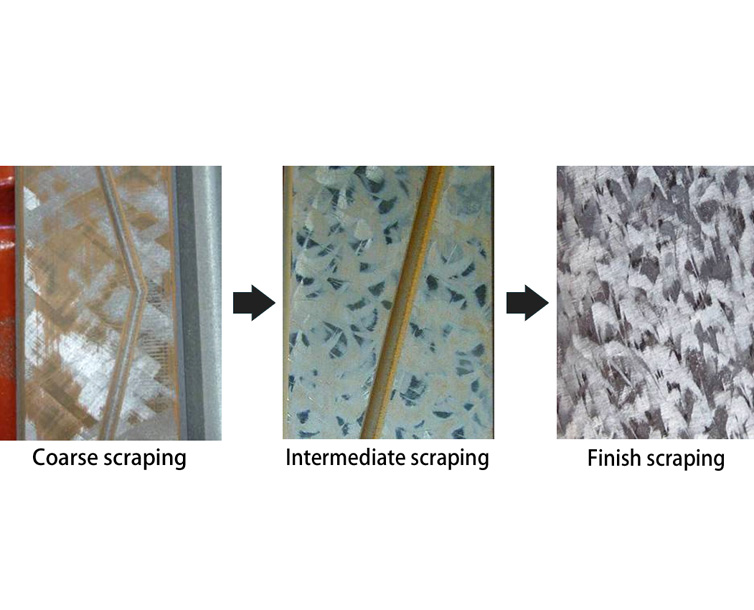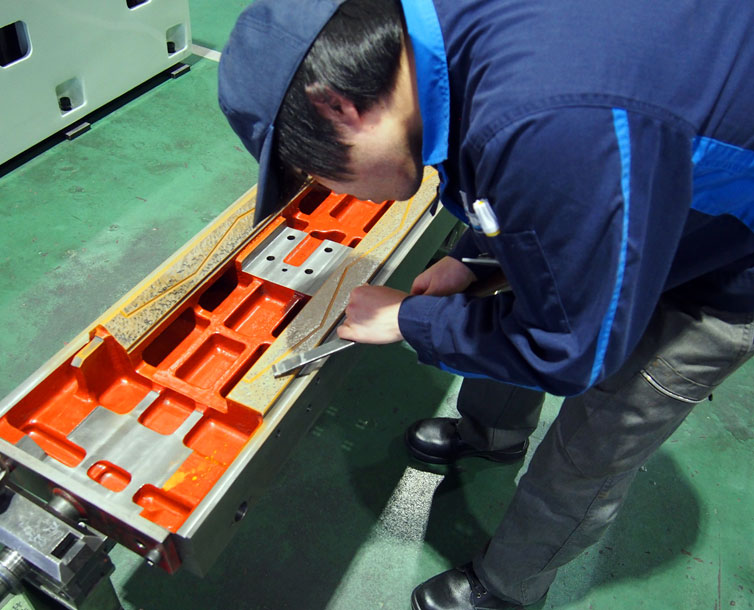 Showroom
Our showroom exhibits our company's latest cylindrical grinders as well as a variety of different workpiece samples which we have worked on up until now. Not only are our company's cylindrical grinders exhibited, they can also actually be used for test grinding. This allows for selection of the optimal machine models, as well as a complete package verification including grinding wheels, coolant, ancillary devices, etc., in order to offer the machines to our customers with a high degree of perfection and optimal grinding technologies.